Long-distance race
Whether you're a fan of climbs or prefer scenic routes, Riccione and the Romagna coast await you with major cycling events. Enjoy competitions for amateur and professional cyclists alike. Get an adrenaline rush in the front row!
Ride between Cattolica and Gabicce Mare.
The 2020 event will be staged on 15,16 and 17 of May
The starting point is Cattolica Aquarium. Two routes – a long one covering 136 km with an elevation gain of 2250 metres and a short one covering 84 km with a gain of 1150 metres.
A race between Romagna and Marche, sea and hills … wonderful the total contact with nature, a real all in one with nature in the Monte San Bartolo Nature Park!
Discover the routes
25 May 2020 … we're off for the Cesenatico Nove Colli long-distance cycle race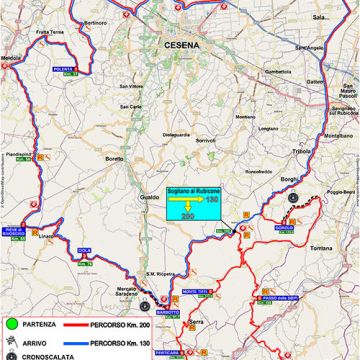 This is among the most important cycling races in Italy, and not only, organized by the "Fausto Coppi" Amateur Cycling Group.
Over the hills loved by Marco Pantani ride the athletes who have decided to experience a spectacular emotion which combines adrenalin and discovery. The scenery of the Romagna countryside is truly spectacular, so much that even tiredness will be forgotten.
This year nine thousand cyclists have signed up for the race which as usual is split into:
Short route: 130 km
Long route: 205 km
Pantanissima, the Long-Distance Race dedicated to the Great Champion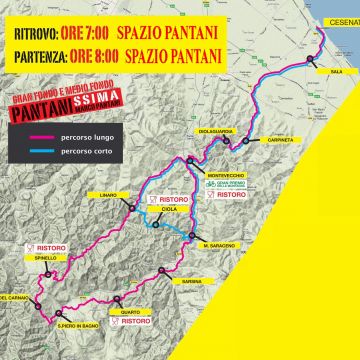 The new edition of the Race dedicated to Marco Pantani will be held September 2020.
Two routes, a long one of 160 km and a short one of 110 km, to discover the steps taken by the great Pirate, over the hills of Cesenatico: the Montevecchio climb and the Carnaio Pass before turning back towards the coast.
Exciting competition for those who love cycling and for those who loved one of the most outstanding Italian athletes.