Long-distance race
Whether you're a fan of climbs or prefer scenic routes, Riccione and the Romagna coast await you with major cycling events. Enjoy competitions for amateur and professional cyclists alike. Get an adrenaline rush in the front row!
Ride between Cattolica and Gabicce Mare.
The 2022 event will be staged on 13rd, 14th and 15th of May
The starting point is Cattolica Aquarium. Two routes – a long one covering 136 km with an elevation gain of 2250 metres and a short one covering 84 km with a gain of 1150 metres.
A race between Romagna and Marche, sea and hills … wonderful the total contact with nature, a real all in one with nature in the Monte San Bartolo Nature Park!
For the Granfondo degli Squali 2022 there are some innovations
Discover the routes
22 May 2022 … we're off for the Cesenatico Nove Colli long-distance cycle race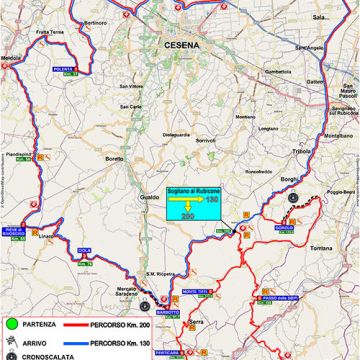 This is among the most important cycling races in Italy, and not only, organized by the "Fausto Coppi" Amateur Cycling Group.
Over the hills loved by Marco Pantani ride the athletes who have decided to experience a spectacular emotion which combines adrenalin and discovery. The scenery of the Romagna countryside is truly spectacular, so much that even tiredness will be forgotten.
This year  thousand cyclists have signed up for the race which as usual is split into:
Short route: 130 km
Long route: 205 km
E-bike route: 96 km
Cycling for the whole family, discover the Gran Fondo City competition of Riccione
The 2022 edition will take place on June 5, the cycling race organized by ASD EURO BIKE RICCIONE, is designed for the well-being and enjoyment of athletes and their companions.
3 brand new courses for 3 different races, unique and unmissable!
e-RIDE
e-Ride is the path dedicated to pedal assisted racing bicycles.
MEDIUM RIDE
Medio Ride a beautiful, fast and performing route. The difference in height will be felt by retracing part of the time trial stage of the 2019 Giro d'Italia – Riccione San Marino with the Montegiardino time trial.
RIDE
Ride, is the challenging and thrilling path that puts a strain on and crosses Romagna, Marche and the Republic of San Marino until you hear the breath of Marco Pantani at Cippo Carpegna.
Hotel Fedora Bike is chosen every year by all sports lovers, especially cycling
Here you will find a trained staff and services designed for your training and competition days.
Contact us without obligation!
📞 Call us at +39 0541 646492 or write us on Whatsapp at +39 393 9124280, or make your request directly from this site! 👇